Robotic process automation — or RPA — bots don't need a coffee break, they don't get tired and they don't lose focus after the 100th math problem that looks just like the 99 that came before. In other words, RPA is great for some of those peskier tasks finance and accounting teams don't like to do.
For years, organizations have been trying to find financial improvements through enterprise systems, reporting tools and stopgap measures that attempted to eliminate repetitive manual actions.
"Unfortunately, what has been discovered is, while these solve many of the existing problems, they haven't solved two of the core problems that exist in the finance and accounting world," said Jeremy Dean, a national RPA lead at Mazars USA, a global accounting and advisory firm.
The first challenge was how to get data into these systems and the second was how to close their financials at month's end, Dean said.
"Many are now finding that RPA provides the means for organizations to finally address and solve these problems," he said.
How RPA works
RPA uses AI capabilities to reduce errors and execute repetitive, high-volume work. And it doesn't need to automate an entire process to be useful. Instead, it can automate certain parts of a complicated process involving numerous steps, and that has been a major driver of its use.
"The quickest wins have been more rules-based processes that are more amenable to RPA," said Dennis Gannon, vice president of advisory services at Gartner.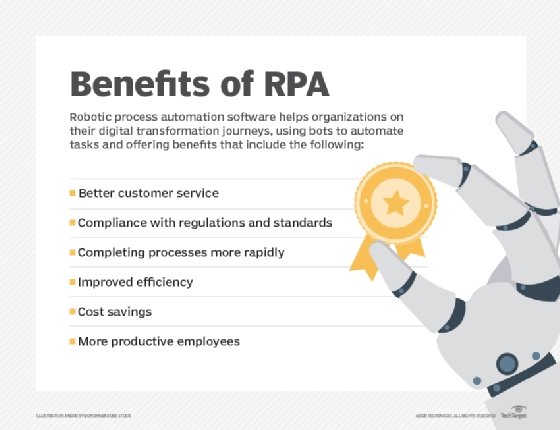 In this context, RPA could be thought of as digital duct tape.
"A good candidate [for RPA] is a task that is a bottleneck in a larger process that may take hours of manual work," Gannon said.
For example, RPA is likely to be widely adopted as a means of automating tasks in the order-to-cash and procure-to-pay processes, he said. Starting with those processes allows finance teams to focus on the quick achievable RPA wins, get feedback on what works well, and then find more tasks that are easy to automate.
As to fears that the robots are coming for the finance teams' jobs, it's important to include those teams on RPA projects both to allay fears and to find new opportunities, Gannon said. Project leaders can start by inviting a few people from a finance team into an automation lab for a few days a month to practice putting new bots into a production environment. Over the course of the rest of the month they will notice how the bot worked and can identify any in-use problems or limitations. These deep dives can also teach them how to spot other automation opportunities between sprints in their daily work.
It's not hard to see the opportunities [for RPA] everywhere once you get engaged.


Dennis GannonVice president of advisory services, Gartner

"It's not hard to see the opportunities everywhere once you get engaged," Gannon said.
RPA consists of software robots, or bots, that represent a pattern of reusable automations for tasks and processes. Bots mimic some functions humans typically do, such as reading a screen in one application, copying the appropriate text, and then pasting it into another application. IT teams can use RPA platforms to create, monitor, manage, reuse and secure bots and their activities.
The simplest bots capture the rote human workflow and mimic it. This basic bot serves as a kind of template, which a bot developer can refine to create a stronger bot that is less likely to break if a screen on an app changes slightly. Bots are often complemented by other AI technologies such as optical character recognition (OCR) for capturing text from paper documents and machine learning to figure out which fields in an invoice map to fields in a finance application. When RPA is combined with other techniques, it is sometimes called intelligent process automation.
RPA can also complement other technologies for automation and integration. IT teams can sometimes use low-code/no-code platforms to create lightweight automations that are implemented as code. They can also use API management platforms or integration platform as a service to facilitate direct integrations that work much faster than RPA. However, RPA has an advantage in that it can access any application that a human can, which is not always possible or easy with these other technologies. 
To understand how RPA is used in the real world, here's a look at nine use cases for accounting and finance.
1. Automating governance
Scaling an RPA implementation can be difficult. One challenge is enabling finance departments to easily create new bots while also providing guardrails.
Hewlett Packard Enterprise (HPE) centralized its bot infrastructure to overcome these hurdles, said Sandeep Singh, finance global quality and RPA CoE lead at the multinational enterprise IT company, headquartered in San Jose, Calif. His team built out a bot platform on top of WorkFusion RPA. The bot platform helps simplify bot deployment and allows bot modeling, use tracking and error reporting. The team also created an internal governance framework to provide a complete view for stakeholders across audit, business compliance, IT and finance teams.
"This gives not just senior executives, but also the external auditors a sense of comfort that we have our eyes on the ball," Singh said. "We constantly work towards ensuring that nothing slips through the gaps."
2. Reconciling accounts
Comparing account balances between systems is a critical — but often tedious — function.
One of the biggest gains for HPE came from using RPA to improve journal entry and subsequent financial account reconciliations, Singh said. These processes are compliance-bound, time-consuming and involve disparate processes across the organization. For example, suborganizations within HPE have different templates, processes and approval flows. Some processes might involve functions within an ERP system. Some might involve audit and compliance requirements of identifiability for transactions, along with all the respective business requirements on approval flows and amount thresholds.
Singh's team had to undertake a thoughtful process redesign to strike the right balance between the varied nature of business-specific requirements as well as stringent audit and compliance rules to create a streamlined process that his team could automate with RPA.
"While business requirements can be negotiable and are subject to improvisation, accounting rules and compliance requirements have to be dealt with kid gloves," Singh said.
3. Processing invoices
Invoice processing is another promising RPA use case.
HPE's accounts payable team processes a considerable volume of paper invoices each month and is responsible for recording vendor invoices for subsequent payment processing. Issues come in the form of multiple invoice formats, a range in the quality of scanned image invoices and the use of multiple languages. The company used a combination of OCR and machine learning modules from WorkFusion to mitigate image format and quality challenges.
OCR helps digitize the invoice images into a consistent text format. Machine learning then uses historical rules to determine how invoice fields map to finance applications. HPE uses RPA to post the extracted data into its SAP Ariba system for procurement management.
4. PO processing
Purchase orders often come in a variety of formats that vary widely depending on the source.
"RPA can automate and speed this process up, as well as reduce human errors," Dean said.
As with invoice processing, OCR can help read paper documents, and machine learning can help map data from the documents into the system of record. For example, Dean worked on one project for a brewer that wanted to automate PO creation within their SAP implementation. An RPA bot received input in two different formats, validated the completeness of the data input, then set up the PO shopping…


Read More:9 promising use cases for RPA in finance and accounting