In 2013 Peter Bakker, the CEO of the World Business Council for Sustainable Development (WBCSD) said that accountants would save the world and that we needed to change accounting rules. More recently WBCSD have released their Vision 2050, arguing for internalising social and environmental costs and benefits. In 2012, less well and certainly less famously, I had started a website on accounting for value, still up but inactive, in order to make the same point. 
More recently, we have had the rise of the 'warrior accountant'. In 2018, the FT published an opinion piece arguing that the new front for green revolution rests on warrior accountants and in 2020, a professional accounting body, CPA Ontario, published a report on 'CPAs and the New Social Contract – the rise of the Warrior Accountant' which said:
CPA: Social justice soldier?
When the pandemic hit, environmental risk reporting had already been promoted from corporate social responsibility sideshow to core business strategy, at least for large-listed companies. Organizations increasingly realize that climate change will have a dramatic impact on the bottom line. Now, social metrics—the S in ESG (environmental, social and governance)—look set to enjoy similar prominence. Investors are increasingly looking for ways to responsibly invest for both shareholder returns and ESG factors like lowering greenhouse gas emissions, tackling inequality, systemic racism, job creation and sustainable long-term economic growth. And in 2020, the covid-19 pandemic accelerated demand for impact investing strategies.
This approach would focus accountants on ESG[1]. Good, but is time for accountants to push for a more radical change recognising that accountancy will be a critical part of the solution to many of our global challenges.
So we do need warrior accountants, but they need to be more radical and more warrior like.
It reminds me of that Monty Python sketch where the accountant wants to be a lion tamer but has confused anteaters for lions and so the careers advisor suggests a transition through insurance and banking. We wouldn't want ESG to be our anteater. 
It reminds me of that Monty Python sketch where the accountant wants to be a lion tamer but has confused anteaters for lions
For many, ESG is about financial risk.
For banks and insurers, the financial risks of climate change are in sharp focus as regulators set out expectations for stress testing and climate risk management. Asset and fund managers and asset owners are being required by regulators and investors to embed sustainable investment throughout their businesses and to consider the full spectrum of ESG. (KPMG)
For others it is about contributions to meeting the SDGs.
The core and expanded set of 'Stakeholder Capitalism Metrics' and disclosures can be used by companies to align their mainstream reporting on performance against environmental, social and governance (ESG) indicators and track their contributions towards the SDGs on a consistent basis. (WEF)
These different purposes have different implications for what, and how, information on ESG factors would be collected and used.
The purpose could focus on a business' contribution to these risks (inside-out information) or on a business' exposure to these risks (outside-in information). These factors might be the same or they could be different. More importantly, the information required to make decisions taking these factors into 'account' will be different. The argument that we need more comparability in ESG reporting to inform investment decisions has been rapidly gaining ground but not always recognising the difference between a business' contribution to risk and a business' exposure to risk. This would be a significant problem if standards only address one of these purposes. Either way, somebody somewhere should be using this information and making different, and we assume better, decisions than they would make without the information.  
My last article, on the investor, explored what we mean by better. If you want better financial returns, you'll be interested in ESG from a risk management perspective. If you want better wellbeing for society overall, you'll want to know how a business is managing its financial returns and its consequences for people's wellbeing. These consequences could be referred to as social and environmental returns or as positive and negative changes to the wellbeing of people and planet. For the remainder of this article, I'll just call them 'impacts'. This is the perspective that warrior accountants should be taking and is where accounting has a significant role to play.
Accounting has an established approach to being clear on the audience and the purpose of accounting information and then on the requirements of that information to be useful. In the enthusiasm for being warrior accountants there is a risk that accountants forget this approach at a time where accountancy has so much to offer the ESG debate. If, as argued in my last article, investors want their decisions to be informed by both expected financial returns and expected impacts, they will need information about the business' existing resources and its impacts and information on managers' stewardship of those resources and the impacts. They will also want information on the business' future financial prospects and future impacts on people's wellbeing, and risks to the business and to people's wellbeing. Managers then become responsible for their stewardship of resources for both financial returns and impacts and will have to account for the trade-offs.
Table 1 below sets out the role of accountants in meeting investors' information requirements in relation to past and future performance.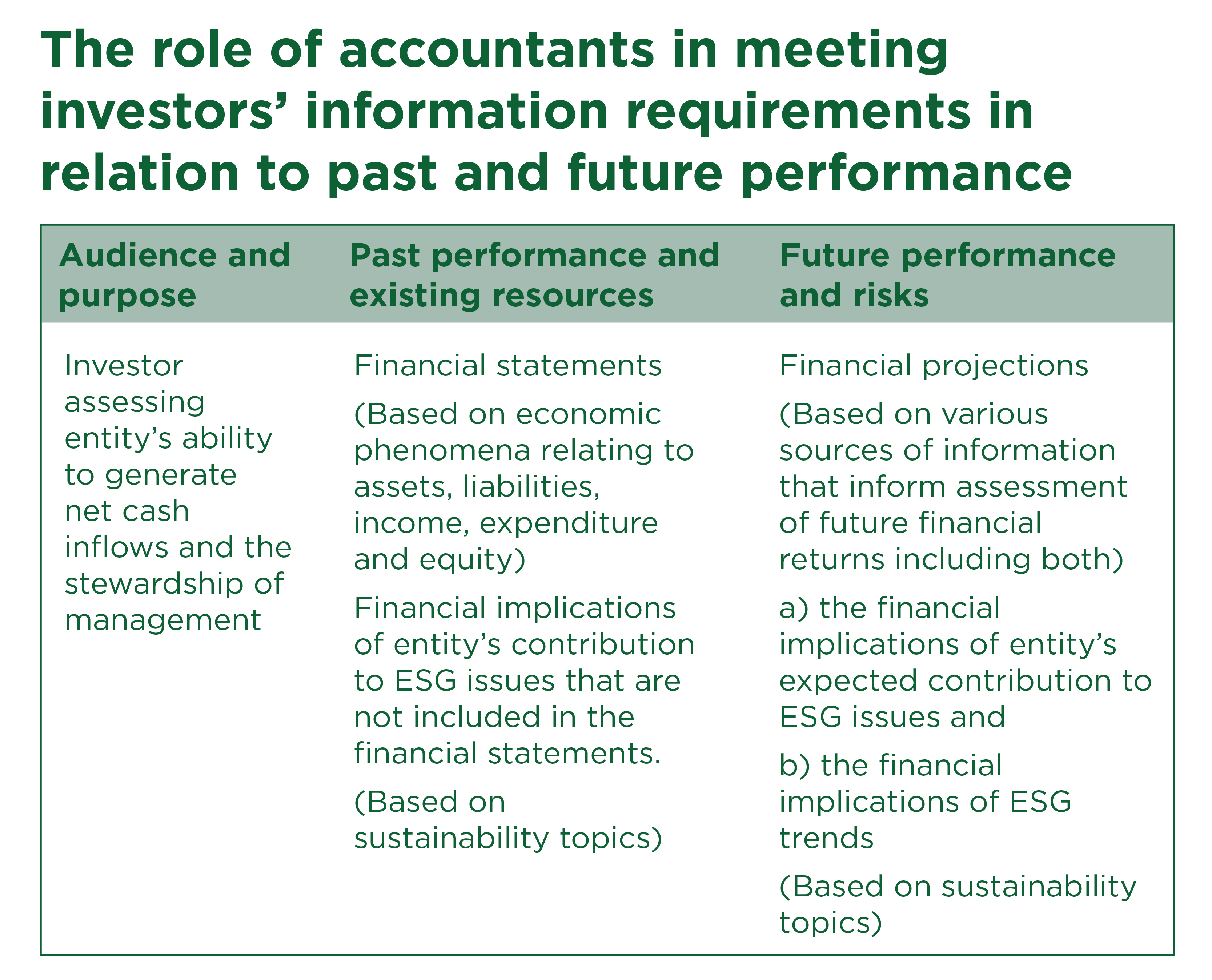 ESG is important because it provides information on future prospects and risks to the business. Those risks could be internal, lurking in the existing business or they could be external but both affect future performance and both need managing.
In order to help investors to make assessments on an entity's ability to generate cashflows, financial accounting addresses two key things:
the economic resources controlled by the entity and claims against those resources (the balance sheet); and
performance in managing those resources to generate future cash inflows (the profit and loss account and cashflow statement).
The balance sheet, profit and loss account and cash flow statement have different purposes and are integrated by double entry book-keeping through the company's equity.
And the accountancy profession is catching up in recognising that ESG risks may have implications for the accounts, for example, on the risks that asset values are overstated. The International Accounting Standards Board has guidance on the effects of climate related matters on financial statements which considers, for example, the need for impairment of existing assets. Fair enough, although Mark Campanale of Carbon Tracker suggests that something like $30 trillion of assets in the fossil fuel economy will need to be written down.
The warrior accountant has more to do than help develop and standardise ESG. The risks associated with the business' dependencies on natural, social and human capital, either a dependency on declining environmental resources or, for example, a dependency on wage and working conditions below ILO standards, should also be managed and reported.
In relation to the financial statements, there is also more to be done in identifying and disclosing potential claims against the business, predominantly because if these claims can be practically avoided, they don't need to be disclosed. The recently produced report by the Capitals Coalition on the Disclosure of impacts on the Capitals in the Financial Statements addresses this in more detail.
But accountancy still has much more to offer. For an investor interested in impacts, in the contribution of a business to wider…


Read More:Will accountants save the world? | The Social Enterprise Magazine