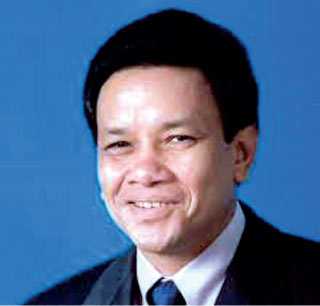 Rimoe Saldin
---
Rimoe Saldin has been appointed to the Board of HNB as a Non-Executive Non-Independent Director with effect from 30 April 2021. 
Previously he served as alternate Director to Rusi Captain, former Director, HNB PLC in July 2018 until his retirement from the Board on 02 April 2021. 
Saldin is a fellow of the Institute of Chartered Accountants of Sri Lanka, an associate of Institute of Chartered Accountants of England and Wales, a fellow of the Chartered Institute of Management Accountants of London and a Certified Management Accountant Australia. 
He has over 30 years of experience in Finance, Operations and General Management.   
He is presently the Director/CEO of Polypak Secco Ltd, a Director of Paints and General Industries Ltd and Polytex Properties and Investments Ltd.  He is also the Chairman of Chemanex PLC and Sithma Development Ltd.  Saldin is a Director of CIC Holdings PLC and serves on the Board of Directors of a number of companies in the CIC Group. He holds directorships in Akzo Nobel Paint Lanka  Ltd, Link Natural Products  Ltd and Cisco Speciality Packaging Ltd as well. 
Saldin is an alumni of the Asia Institute of Management.  
Previously he has served as the Commercial Director and Group Finance Director of CIC Holdings PLC for the period 1995-2005. He was the Country Controller & Group Finance Director for Shell Sri Lanka for the period 2005-2010 and also the Group Chief Operating Officer, Browns Group of Companies PLC and the Managing Director of Browns Investments PLC from 2010-2014.


Read More:Rimoe Saldin appointed to HNB Board